We're trying a new layout. Let me know what you think.
Anna was 2 years old yesterday!!!! I can't believe how old she's getting, as well as how bratty! She is certainly entering her terrible two's and her and I occassionally have the non-verbal conversation.
Other than that, we got Phillip and Nicholas' report cards today and both did great in school! Marina just came back from a camping trip and today she went to a babysitting certification class, so she is officially certified! Plus, they added her name to the Fort McCoy babysitter's list so hopefully she'll get a few calls from that too.
We stayed up really late last night watching Zathura and were all dragging ass today. After we went swimming for Anna's Birthday, we all took a good nap, which was sorely needed. The pool in Tomah is really nice, because there's a large wading area for the little kids and then the regular pool has three diving boards and is very large. We bought a family season pass for $39 so now we can go whenever we want, plus it's right behind the house which makes it even easier.
Yesterday we made a backyard soccer field. Used up about 4 cans of spray paint and it'll be gone after I mow the lawn, but we did have the first official game in the "Pavek Cup" tournament. The most important thing that we found out...... Mary and I suck at soccer.
Here's a picture of the kids after I told them to clean their rooms.
Here's Anna with her birthday present from our friend Jennifer.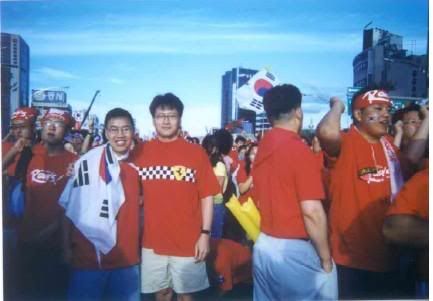 Also, in honor of South Korea's World Cup win today, here's one from 4 years ago.